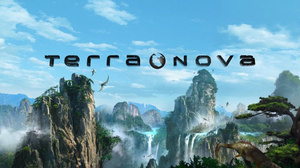 Earlier this week, Fox announced that it was cancelling the expensive, failed show "Terra Nova."
It now appears that the show may find a new home, and a second season, on the
streaming
Netflix service. Netflix and 20th Century Fox have been in preliminary discussions over a sale of the series, and both sides seem to be excited by the prospect.
Terra Nova cost $4 million per episode and was canceled after just one season due to low ratings and a unanimous hatred by critics. The show revolved around time travel/dimension jumping, and dinosaurs.
The move would be in line with Netflix's recent transition into original content. The company's first original show, "Lilyhammer" became available for streaming last month. The company will also stream the fourth season of the cult classic "Arrested Development," which was canceled in 2006.
ScreenRant
says
"Fox will be footing the bill for all of the series' visual effects, any previously created visual effects will be able to be reused without any additional financing,"
which should make production cheaper for Netflix if they were to indeed purchase the show.