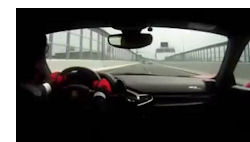 Japanese doctor wanted to show off Ferrari.
The 50-year old is charged with driving at 124km/h (77mph) in a 40km/h (25mph) zone. The evidence is a video he posted himself of the incident on
YouTube
. Angry YouTube users reported the video to police. The man reportedly said he simply
"wanted people to understand the beauty of a Ferrari."
The video shows the car leaving an underground car pack and driving along highways and coastal roads in Fukuoka, southern Japan, for six minutes last April.
Police began investigating the video in May.
The camera was positioned behind the driver. Police determined the speed by calculating the distance covered in specific time frames.
He now
faces a fine of up to $1,220 (£778) if convicted
, or possibly could be landed with six months in prison.