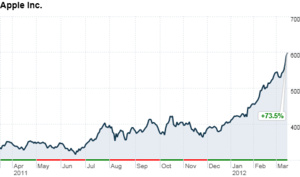 Apple
, the world's most valuable public company, has seen another milestone today, a $600 per share stock price.
At the time of Steve Jobs' death, the share price was $380 but the company continues to have record quarters and sales despite the passing of the company's founder and visionary.

The company has a current market capitalization of $550 billion, far and away the most valuable in the world, even ahead of Exxon Mobil.

Shares of the company were just $180 before the launch of the iPhone in 2008.

Apple had $127.8 billion in sales for 2011, making a profit of $43.82 billion. The company now has $100 billion in cash and short-term liquid assets.