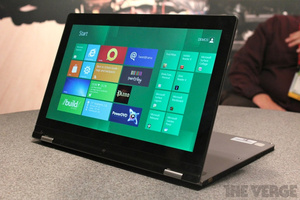 Even though
Dell
recently announced they would be releasing a business tablet running Windows 8 the "exact day" the operating system is released, it appears the company will have some immediate competition.
The Verge
says
Lenovo
will have a tablet running the upcoming OS on the same day, which they internally believe to be in mid-October.
Most speculate the device will be the 13.3-inch IdeaPad Yoga, which was unveiled at
CES
in January.
The IdeaPad Yoga is a 13.3-inch notebook that, when flipped, can be used as a standalone tablet.
Although there is not too much known about what the computer's final hardware will be, it is apparently just 0.67-inches thick and made to look like Lenovo's current IdeaPad U300 line. Lenovo says the laptop can be easily flipped to look like a tablet for made to stand V-shaped in "tent" mode, as seen in the pics. The device is very light at just 3.1 pounds.
Additionally, the display is 1600 x 900-
resolution
and the current prototype has an i7 processor.