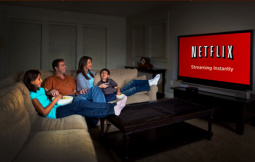 Netflix has announced the addition of a few 80s cartoons to its
streaming
library.
Among the shows coming to Netflix instantly are "My Little Pony," "
Transformers
Prime," "GI Joe: Renegades," "Pound Puppies," and "The Adventures of Chuck & Friends."
Additionally, "JEM & The Holograms," "Transformers: Generation 1," "G.I. Joe: Real American Heroes," "Transformers: Beast Wars "and "Transformers: Rescue Bots" will hit the catalog later in the year.
Financial details for the deal with Hasbro were not disclosed, and neither was the length of the contract.
Each of the shows will be hosted in the "Just for Kids" section, which launched last year.
Netflix has made many moves in the recent past, including getting exclusive first rights to the "The Artist," 2012's Academy Award for Best Picture.