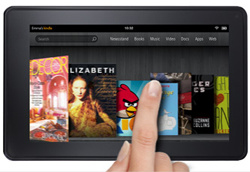 Target to further distance itself from Amazon.
The Internet e-commerce giant used to run
Target
's website for years until a legal battle forced that relationship to end last year. Target now views Amazon as a serious competitor (which has learned a lot about its business) and has been moving to distance itself from it.
"Target is phasing out Amazon- and Kindle-branded products in the spring of 2012,"
Target spokeswoman
Molly Snyder
wrote in an email to Reuters
.
"We will continue to offer our guests a full assortment of e-readers and supporting accessories."
Target does not see e-readers from other firms as a threat to its business, while Amazon's Kindle devices are heavily linked to its online retail business. Wal-Mart confirmed that it will continue to sell Amazon's Kindle products in its stores.
Apple products have been advertised more aggressively in Target stores recently.