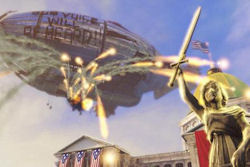 Irrational Games needs more time, money.
The third instalment of the mega-popular
BioShock
series has been pushed back until next year, it was announced today. Its developer,
Irrational Games
, said it needs more time and money to complete the eagerly anticipated title.
BioShock Infinite
was originally due to go on sale in October this year, but has been pushed to February 26, 2013.
"Bioshock Infinite is a very big game, and we're doing things no-one has ever done in a first-person shooter,"
said game designer
Ken Levine
.
"We had a similar experience with the original Bioshock which was delayed several months. Irrational Games is one of those rare developers lucky enough to ask the people who sign the cheques: 'Hey, can we have a few more."
The delay means that BioShock Infinite will avoid head-on launch competition with other heavyweights, such as
Halo 4
and
Call of Duty: Black Ops 2
.
BioShock Infinite moves the gamer from below the waves and into a Sky city environment with an ongoing civil war between an ultranationalist ruling class and a resistance movement. At the E3 conference last year, a preview of BioShock Infinite won the Best of Show award, and received praise from critics.