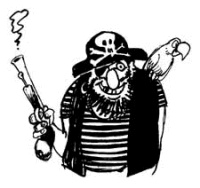 United States Magistrate Judge Gary R Brown laments
"abusive litigation."
Brown criticised legal arguments that an IP address is sufficient for identifying an individual responsible for copyright infringement online. He made the comments in the
K-Beech, Inc. v. John Does 1-37
case which deals with the illegal sharing of adult entertainment videos.
"The assumption that the person who pays for Internet access at a given location is the same individual who allegedly downloaded a single sexually explicit film is tenuous, and one that has grown more so over time. An IP address provides only the location at which one of any number of computer devices may be deployed, much like a telephone number can be used for any number of telephones,"
Brown commented
.
"Thus, it is no more likely that the subscriber to an IP address carried out a particular computer function ? here the purported illegal downloading of a single pornographic film ? than to say an individual who pays the telephone bill made a specific telephone call."
Brown also noted some of the defendants claims. One woman, for example, said that her wireless router was not secured and that she lives beside a municipal parking lot where somebody might have used her connection to download or share files.
The testimony of another defendant also showed that K-Beech was allegedly more interested in intimidating defendants into paying thousands to settle cases than giving them a chance to prove their innocence.
"The Negotiator was offered unfettered access to my computer, my employment records, and any other discovery they may need to show that I was not the culpable party. Instead, the Negotiator refused and was only willing to settle the Complaint for thousands of dollars,"
the defendant claims.
Brown referred to this as
"abusive litigation tactics"
and alluded that the principal purpose of these cases was probably to extract settlements from John Doe defendants.
Nevertheless, the judgement permits the plaintiffs to obtain relevant information from Internet Service Providers.