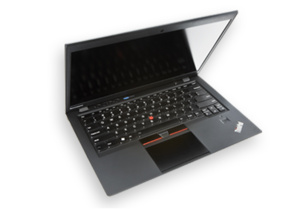 Lenovo shows off new Ultrabook.
The ThinkPad X1 Carbon was just one of many new products shown by Lenovo at its Accelerate Channel Partner Conference in Las Vegas. The 14-inch (1600x900 screen) next-generation business Ultrabook has a premium carbon fiber rollcage, weighing less than three pounds. Lenovo's previous Ultrabook, the ThinkPad X1 has a 13-inch screen, and weighs more at 3.8 pounds.

It also features embedded 3G connectivity, a RapidCharge feature that can bring the battery to an 80 percent charge in 35 minutes, a backlit keyboard and HD (720p) camera.

"We crafted the ThinkPad X1 Carbon with premium carbon fiber material in order to make it incredibly thin and light, yet durable," said Lu Yan, senior vice president, Think Product Group, Lenovo.

"Our new ThinkPad laptop portfolio embodies much of the innovative thinking exemplified in the X1 Carbon, such as a backlit keyboard, super-bright high definition display, Dolby Home Theatre and rich communications features that balance business performance with personal use."

The exact hardware configuration is not yet known, except for the fact that it will be powered by an Intel Ivy Bridge processor. It will go on sale in the summer (no price information available yet).