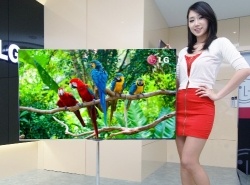 Japanese to take on South Korean counterparts.
Reuters
is citing sources close to
Sony Corporation
and
Panasonic
in reporting that the firms are in talks to combine their
OLED
TV production efforts. Organic-Light Emitting Diode (OLED) televisions provide better images and use less power than their LCD rivals, and are thought to be the next big thing in the declining market.
Both Sony and Panasonic have been hammered in the TV space over recent years, particularly since the start of the downturn in 2008. A strong Yen also works against both the Japanese firms in the global market.
Meanwhile in South Korea, Samsung and LG Electronics are moving way ahead of the Japanese firms in OLED, with both planning to sell 55-inch OLED televisions by the end of the year. The OLED displays are as thin as 4mm.
Sony had been making progress in OLED televisions, debuting its first OLED television in 2007. The global downturn halted Sony's progress in OLED however, and the firm has been scrambling to plug record breaking losses in its TV division, and overall poor performance. Right now, it does still make OLED screens for high-end customers, but they come with price tags around $26,000.
The race in the industry now surrounds making the technology affordable for the masses.
"Japanese makers haven't been able to produce OLED TVs that are as large as Samsung's ... I think there's an element of Japanese pride to this - the fact that Panasonic and Sony will work together to produce OLEDs to beat their Asian rivals. But I do have serious doubts on whether they can catch up,"
said Masayuki Otani, chief market analyst at Securities Japan.