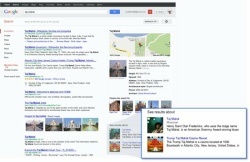 Google Search has gotten a whole lot smarter.
The search giant revealed its next major improvement to search this week, the
Knowledge Graph
. For
Google
users, this means a new side-panel with information that may make retrieving information far more easy than it ever has been using Google, or any other search service.
Google summed it up by saying its search engine can now recognise
"things, not strings."
When you enter a string of text into Google's search engine, it will try to get results based on the words in the string that you enter. It's algorithms can help to promote the most relevant or most popular results to the top of the list, but it is far from perfect.
With the Knowledge Graph, Google recognises
"things"
, such as the
Taj Mahal
. When searching Taj Mahal with Google, it simply probes results based on the words, it does not recognise or care that the Taj Mahal is a
"thing"
in reality. On top of that, it cannot differentiate the Taj Mahal monument from the casino in Atlantic City, or from the Grammy-award winning musician with the same name.
With the Knowledge Graph, Google will offer you the ability to specify if you want search results about the musician, and not the monument.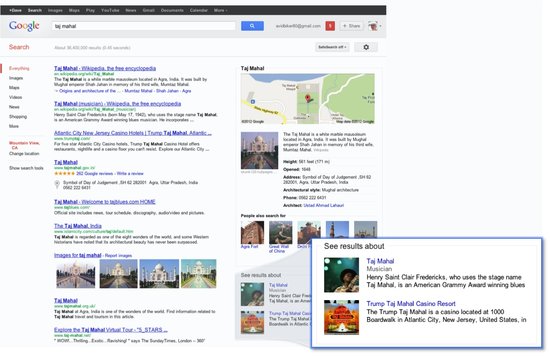 Click to enlarge
In addition to being able to apply a filter that will recognise a
"thing"
, the Knowledge Graph will also retrieve information when you search for people, and display it right on the results page. This includes basic information such as the birth and death dates of people, what their occupation was and so forth. It also can help you to narrow down information you want to find.
For example, searching for
Frank Lloyd Wright
could traditionally bring up results about the books that he wrote, or the buildings that he designed, but the results are likely to be Wikipedia-like profiles where all of this information is packed in together. With Knowledge Graph, information like that will be provided in the summary right on the search page.
It is also able to understand the relationship between
"things."
Search for a nobel prize winner, it will tell you what other people won the same prize, or what other recognitions the subject of your search had received. It will also bring up relevant information from relatives of your search. Digging into the combined data of millions of Google users, it can also tell you what you might want to search for next, relevant to your query, and also make suggestions based on what others have searched.
For example, searching for Simpsons creator
Matt Groening
will bring up the names of his immediate family, and tell you where he got the ideas for the names
"Marge,"
"Homer"
and
"Lisa"
.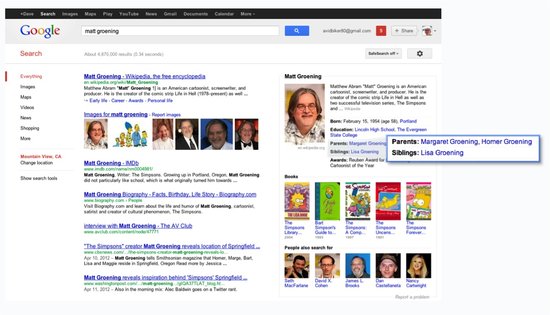 Click to enlarge
"Google's Knowledge Graph isn?t just rooted in public sources such as Freebase, Wikipedia and the CIA World Factbook. Itis also augmented at a much larger scale?because we?re focused on comprehensive breadth and depth,"
said
Amit Singhal
, SVP, Engineering at Google.
"It currently contains more than 500 million objects, as well as more than 3.5 billion facts about and relationships between these different objects. And it?s tuned based on what people search for, and what we find out on the web."
Google has started to gradually roll out this view of the Knowledge Graph to U.S. English users. It will also be available for smartphones and tablets.