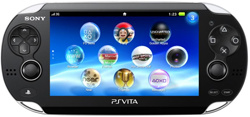 At their press event yesterday,
Sony
unveiled some important news for the PS Vita handheld.
The company announced that popular apps like Hulu Plus and Crackle will be hitting the handheld, "soon."
Unfortunately for those abroad, the
streaming
video services are U.S.-only, but they should be welcome additions to those with subscriptions.
Sony recently added a dedicated YouTube app to the device, and MLB.TV, Amazon Instant Video, Vudu, Sony Music Unlimited, and ESPN logo are expected to be added in the future.
Secondly, Sony noted that PSOne Classics are headed to the PS Vita store over the summer, finally giving gamers the chance to purchase the games for their handheld.