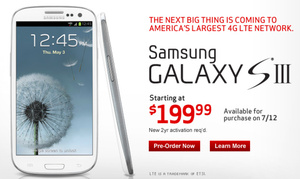 Verizon has confirmed that the
Galaxy S III
will finally reach the carrier on July 12th, after a slight delay.
The carrier had initially announced the phone would launch online and in retail stores on July 10th.
If you pre-ordered the phone, you will still get it (or already have) but for those that like to actually feel the device in-store, you will have to wait a couple more days.
The phone sells for $199 with two-year contract via the carrier.
Read our review of AT&T's version of the new flagship here:
Review: Is Samsung's Galaxy S III worth all the hype?