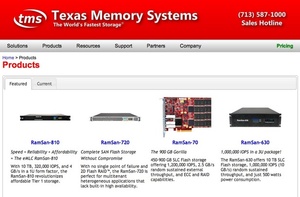 IBM has announced its purchase of Texas Memory Systems (TMS), a maker of flash memory products.
The company markets itself as a designer and seller of high-performance SSD solutions, as well as NAND flash and
RAM
memory.
Says the company's site: "The products are designed to help companies improve performance and reduce server sprawl, power consumption, cooling, and floor space requirements, all of which in turn can help clients save money, improve performance and invest more in innovation."
Adds Brian Truskowski, general manager of systems storage and networking at IBM:
"The TMS strategy and solution set align well with our 'smarter computing' approach to information technology by helping clients realize increased performance and efficiencies at lower costs. Solid-state technology, in particular, is a critical component of our new smarter storage approach to the design and deployment of storage infrastructures, and part of a holistic approach that exploits flash in conjunction with disk and tape technologies to solve complex problems."
IBM will integrate the TMS tech into their storage, servers, software, and PureSystems offerings.