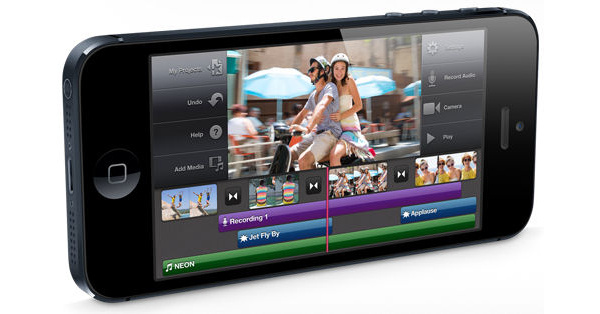 Apple has unveiled its new iPhone 5.
Phil Schiller took to the stage to announce the iPhone 5 after Tim Cook had already touted some of the company's ongoing success (below). The device, supports LTE networks up to 100Mbps, DC-HSDPA up to 42Mbps and HSPA+ at 21Mbps. With its aluminium and glass finish, it's 18 percent thinner (7.6mm), and weighs 20 percent less (112 grams) than the iPhone 4S. For the first time, the iPhone has gotten a new "Lightning" connector which replaces the familiar connector. It is smaller in size, but might annoy some Apple fans who already have speakers and other equipment they use with older iPhones.

In the U.S., the iPhone 5 will be available on Sprint, AT&T and Verizon (all support LTE).

The iPhone 5 is powered by the new A6, which Schiller claimed provides twice the CPU and graphics performance, while being more energy efficient. The device comes with improved battery life over the iPhone 4S, promising 8 hours talk or browsing over LTE or 3G networks.



It features a lengthened 4-inch 1136 x 640 (326ppi) Retina display screen, providing a better experience for "widescreen" movie viewing, and accommodating a sixth row of apps. Apps developed for small screen iPhones will be displayed with black borders until developers updated them. While the camera offers the same specs as the iPhone 4S (though it is smaller), Schiller said that the device will produce better photographs in low light than before thanks to improvements in other areas, including the software.

Phil also confirmed that FaceTime would work over cellular networks, but was short on specifics.

First party apps for the device have also been improved over older versions.

As for pricing, the iPhone 5 follows the model of the iPhone 4S. The 16GB model will sell for $199, 32GB for $299 and 64GB for $399. The iPhone 4S can now be gotten for $99. Pre-orders started on Friday (14th), and the iPhone 5 will ship in the U.S., Canada, Germany, France, UK and Australia on September 21.

Earlier, Tim Cook proclaimed again that we are now in a post PC world, stating that over 17 million iPads were sold between April and June, setting a new record for the tablet sales. The market share for the iPad has risen from 62 percent to 68 percent. The device accounts for 91 percent of all tablet traffic. Apple has sold over 400,000,000 devices that run iOS software, as of June 2012.

The App Store has also continued to grow, with 700,000 apps available from the ecosystem, with a quarter of a million apps specifically for iPads.

Cook touted Apple's position in the U.S. market for notebooks too, saying the company has ranked on top for the past three months. The company also sold 7 million copies of Mountain Lion OS X upgrades.