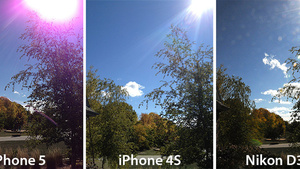 iPhone 5
owners have complained of a purple ring at the edge of their photos, and it appears
Apple
sees it to be a real issue since they have issued a statement about the bug.
Apple says if you have any kind of light source right outside the viewing area of the phone's lens, you might get some purple light leakage in your photos.
The company says the issue is well known, and it affects many more devices than just the iPhone:
"Most small cameras, including those in every generation of iPhone, may exhibit some form of flare at the edge of the frame when capturing an image with out-of-scene light sources. This can happen when a light source is positioned at an angle (usually just outside the field of view) so that it causes a reflection off the surfaces inside the camera module and onto the camera sensor. Moving the camera slightly to change the position at which the bright light is entering the lens, or shielding the lens with your hand, should minimize or eliminate the effect." – Apple
Officially, Apple calls the symptoms
"a purplish or other colored flare, haze, or spot is imaged from out-of-scene bright light sources during still image or video capture."