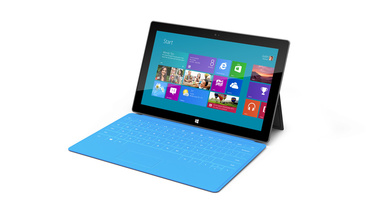 Redmond bets big on Windows 8.
At a launch event in New York,
Microsoft
's
Steven Sinofsky
- who headed up the development of Windows 8 - showed off new hardware running the new operating system to members of the media and representatives from hardware partners. Sinofsky showed off devices made from firms including
Acer
,
Lenovo
and others, but dedicated quite a bit of time to Microsoft's Surface tablet.
"One person called it historic, unique. It's starting at $499 for the 32 GB version and we think that's a pretty darn good price. It's twice the amount of storage as a competing tablet for the same price,"
Sinofsky said.
Later on,
Panos Panay
- who headed up the Surface development efforts at Microsoft - showed off some of the Surfaces abilities with multimedia, and its keyboard-packing ultra-thin case before intentionally dropping the device on the floor to show its durability.
Earlier, Microsoft CEO
Steve Ballmer
had
told Reuters
that the company has re-imagined Windows and the entire PC industry. The firm has been struggling to deal with the growth of
Apple
and
Google
in the mobile space, and Windows 8's Metro tiled user interface is designed as an alternative for consumers to the familiar Android and iOS platforms.
Getting Windows 8 tablets to compete effectively will take a lot of time and effort on Microsoft's part. While the Surface has received excellent reviews for its design and features, the reaction to the selection of apps from the Windows Store has not been so positive, and there are also some concerns about the battery life. Microsoft is relying on developers to embrace the new platform quickly to make this less of an issue, but its late arrival is very evident.
Nevertheless, Windows 8 remains the most radical change Microsoft has made in its Windows release cycle in years, and if you want to succeed then you need to come up with new ideas all the time. Windows's position at the top of the food chain in computing is under serious threat as consumers increasingly use smartphones and tablets instead of PCs for an increasing number of tasks.
Windows 8 and the Surface tablet officially go on sale at midnight.