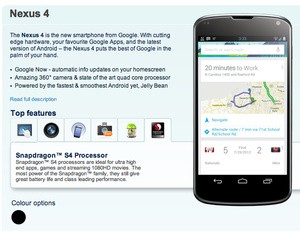 Although it has been rumored for over a month and even seen via very official looking press photos, Google has not officially unveiled the
LG
Nexus 4 just yet, instead waiting for their press event on October 29th and release just one day later.
Today, however,
we appear to have an official unveiling
, unwittingly, thanks to European retailer Carphone Warehouse.
The company put up a pre-order page, including a pic and specs of the device, and an inventory screenshot shows the price.
LG's latest will feature a 4.7-inch display with 1280 x 768
resolution
,
Android
4.2, a quad-core Snapdragon S4 processor,
NFC
, and an 8-
megapixel
rear camera. As rumored, the phone will have just 8GB on internal storage, 2GB
RAM
and be just 9.1mm thick.
While there was little revealed about the updated
Jelly Bean
, one new feature is "Gesture Typing," Google's own version of Swype/SwiftKey, etc.
For pricing, the screenshot show a £389.95 for the SIM-free version, which could lead credence to the rumor that the device will sell unlocked through the Google Play Store in the U.S. for $399.99.