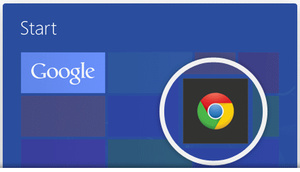 Google site is for new Windows 8 users.
Getyourgoogleback.com
leads you to a simple Google page that shows you quickly how to do two things on Windows 8; make the Google Chrome web browser your default web browser (as opposed to the included Internet Explorer 10) and to put Google Search right onto the Start Screen.
While these things sound pretty easy - in fact they are easy - there have been reports of confusion among consumers who are trying out Windows 8, and seem stumped by the new user interface.
In case you know of somebody who might need help "getting their Google back," send them to
Getyourgoogleback.com
and save yourself the few minutes of your time.