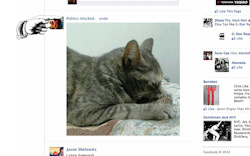 New app censors friends' political rants on Facebook.
So the U.S. Presidential Election is only about ten days away, and the political rants and propaganda are taking over the social sphere like never before. If you find that your
Facebook
friends are making the service less fun with all of their partisan spewing, there's a solution that just might help.
The new Chrome extension,
Unpolitic.me
, will analyse your social feeds and locate any political talk. It will then remove the post and replace it with an image. You can define your own image-based RSS feeds - and you might want to, as the default feed is of pictures of cats.
The extension was developed by
Buzzfeed
and the makers of
Unbaby.me
- a similar plug-in that
filtered pictures of babies
. Unpolitic.me only seems to be available for Chrome users for the moment, whereas Unbaby.me worked with
Firefox
too.
Keywords that are filtered by default include Obama, Romney, Ron Paul, Paul Ryan - and also politically charged words such as taxes, deficit, trickle down economics and of course,
"how messed up is this country."
You can also add and remove your own keywords to fit your loud-mouthed soapbox enthusiasts, or to make it more relevant to your country (like adding Eurozone, Merkel, Greece, Spain, PIIGS and so on if you live in the EU).
"This is surest way to ride out the rest of the election (and or life) without bothersome posts, opinions, and links from your politically savvy 'friends,'"
the extension's description reads.
"Install the app. Refresh your Facebook newsfeed. Enjoy an Obama AND Romney free life."
Now all you need to do is find some kind of anti-canvassing measure to scare off the street soldiers deployed by the reds and blues, if you live in America.
Get the extension from the
Chrome Web Store
. You may need to clear your browser cache if it doesn't work immediately.