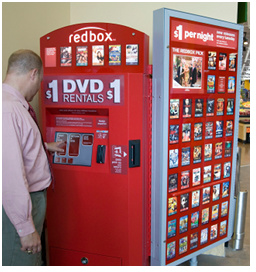 Redbox, Warner end stand off.
Redbox
had decided to allow its contract with Warner expire, since the studio was demanding that a 28 day window in which Redbox could not offer its new Blu-rays and DVDs for rentals, should be extended to 56 days.
The low-cost rentals provider decided that 56 days was just too long and said it would purchase Warner movies elsewhere.
Fast forward several months and now the two seem to have made up, and
come to a new arrangement
- or well, more or less the arrangement they had before Warner tried to extend the release window to 28 days. The agreement is valid between January 1, 2013 and December 31, 2014.
"We are pleased to once again have a direct relationship with Redbox, providing their consumers access to our movies,"
said
Ron Sanders
, president,
Warner Home Video
.
"In addition, we look forward to working together on other key initiatives such as UltraViolet and creating promotional opportunities to offer consumers great content when and where they want it."
Movie studios have argued that low-cost rentals available for kiosks on the same day as a Blu-ray or DVD release result in less revenue, as consumers opt to rent rather than buy. This is how the release window was born, but with more digital options becoming available, can studios continue to enforce niceties such as limited release windows?