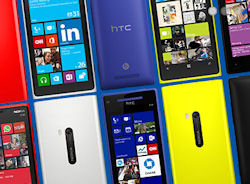 Microsoft has unveiled its Windows Phone 8 OS.
The Redmond giant's latest mobile operating system is to be deployed on new smartphones from Samsung, Nokia and HTC, bringing new features that Microsoft showed off today.

"We can't wait for the world to meet Windows Phone 8, the most personal smartphone there is," said Terry Myerson, corporate vice president of the Windows Phone Division at Microsoft. "Windows Phone 8 comes on a range of phones that are stunning, colorful and unique."


Windows Phone 8 Video Demo
Windows Phone 8 Features


The Windows 8 Start screen is designed to be more personal than the default user interfaces of rival mobile operating systems. Live Tiles have been a major part of Microsoft's efforts to bring smartphones to life, so of course they are center stage of Microsoft's demoes of Windows 8. With Live Tiles, information is brought right to the Start screen, such as the Groupon deal of the day, flight information and news headlines. In Windows Phone 8, some Live Apps such as Facebook can deliver real-time information right to your lock screen with updated wallpaper.



For parents who are weary of handing their smartphones to their kids, there is a simple feature called Kid's Corner, which will allow them to play games without being able to make calls, send messages, read your e-mail or any other way they can screw up your life. In the social space, a Rooms feature allow you to create private groups of people who have Windows Phone 8 -- like your family members best friends or fantasy football league -- and easily connect with just them.

For those of us who are conscience of the draconian data limitations being forced upon us, Windows Phone 8 has a Data Sense feature that will help you avoid going over a data limit. Data sense helps conserve your data allowance by compressing Web images, deferring data tasks to free Wi-Fi and automatically adjusting your usage as you get closer to your plan limits. Data Sense also shows how much data is used per app, and will notify you as you approach your monthly limit. This feature appears to require provider-support however, as Verizon is slated as the first U.S. carrier to offer it.

Windows Phone 8 also come armed for the mobile payments war, bringing together the best of new wallet technologies, including payments via near-field communications (NFC). Wallet can also store your debit, credit, loyalty and membership card information on your phone.

Predictably, Microsoft's Skype integrates deeply into Windows Phone 8, allowing you to make and receive Skype calls just like a regular phone call. Simply tap a friend or family member's contact card in the People Hub, or just pick up when the phone rings. Skype is always on and available so you can choose how to connect with people.

On the app front, the Windows Phone Store has currently 120,000 apps to choose from, with hundreds being added daily. Today Microsoft announced that Pandora, the leading Internet radio service, is coming to Windows Phone in early 2013 with one year of ad-free music.