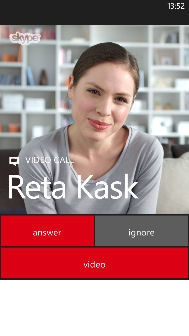 Skype exhibits itself on Windows Phone 8.
The mobile app for the Windows Phone 8 operating system has been built from the ground up to integrate as fluently as possible with the OS. Like the Skype app for Windows 8, the mobile app lets you receive chats and notifications for voice and video calls while on lock, or on another app and with minimum battery usage. Incoming calls on Skype use the same incoming calls screen as a normal cellular call on Windows Phone 8.

Skype also makes use of the Windows Phone 8 Start screen, feeding information to the Live tiles about your latest messages and so on. Skype notifications can be added to the lock screen to appear alongside missed calls, unread emails and text messages, so there's no need to unlock your phone to check if you've missed a message or call in Skype.

Just like Windows 8, once you sign in to Skype on your phone, your Skype contacts are automatically added to your Windows Phone, making it possible to call the people who matter to you via Skype right from the People Hub.



Following the Windows and Mac Skype applications, you can now also see and chat with your Messenger buddies on Skype, if you have linked you Skype Name and Microsoft account.

"We're hard at work finishing up Skype for Windows Phone 8 and looking forward to bringing Skype to the Windows Phone Store soon."