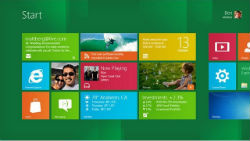 Windows 8 demand very strong, claims CEO.
Windows 8
was officially launched to the public on Friday, along with the
Surface with Windows RT
tablet. There has been speculation about whether Windows 8 will allow Microsoft to dive into the tablet market - which is dominated by Android and iOS - while also keeping the good ole PC user happy.
If you are to believe Microsoft's chief
Steve Ballmer
, then all is A-OK so far.
"We're seeing preliminary demand well above where we were with Windows 7, which is gratifying,"
Ballmer said
during an event to
unveil Windows Phone 8
, on Monday.
"Over the weekend we saw an incredible response around the globe to Windows 8 and the Microsoft Surface."
Seeing stronger demand for Windows 8, if true, is a great sign for Microsoft, given that Windows 7 has been its best selling Windows revision in its history. More than 670 million Windows 7 licenses have been sold by Microsoft in the three years that the operating system has been available.