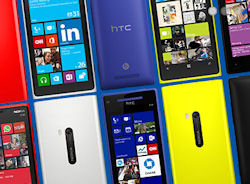 Firm claims it invented Live Tiles in the 90s
SurfCast
, a software firm, has sued Microsoft in Maine over the Live Tiles that appear on the Start Screen of
Windows 8
- as well as
Windows Phone 7
and
Windows Phone 8
.
Its case comes down to a patent filed in the year 2000, and
granted in 2004
, describes a
"system and method for simultaneous display of multiple information sources"
. Microsoft's Live Tiles are one of the points it keeps bringing up about how Windows Phone 8 differs from iOS and Android, which have static icons on their screens.
"A Tile is different from an icon because it can be both selectable and live - containing refreshed content that provides a real-time or near-real-time view of the underlying information,"
SurfCast's website states.
It has complained that Microsoft has infringed its tile patent, and that it is actively encouraging other developers to do so by asking them to design Live Tiles for their Apps.
"We developed the concept of Tiles in the 1990s, which was ahead of its time,"
Ovid Santoro
, CEO of SurfCast, said on the website.
"Microsoft's Live Tiles are the centrepiece of its new operation systems and are covered by our patent."