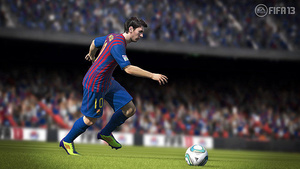 EA insists it is addressing concerns.
The
BBC
's
Watchdog
program and website report on instances where consumers have complained about a product or service. Watchdog turned its eyes on
EA Sports
, after receiving a flurry of complaints from gamers who were having very bad experiences trying to play FIFA 13.
The title has already sold four million copies since it launched in September, and Watchdog had reported on some complaints about glitches and freezing that popped up within days.
Some complaints spoke of invisible players on the field of play, and crashes that result in a system freezing up - both claims I have personally witnessed, incidentally.
Watchdog reported on FIFA 13 again after it felt EA had not responded adequately to the problems. Its report told the story of one 14 year old kid, Semir from Suffolk, who spent £20 on FIFA points to acquire gold packs in the game, in order to obtain better players in
"Ultimate Team."
One day after he spent his money on them, they disappeared.
EA has responded to Watchdog
with a letter
, which is pasted in its entirety below.
"FIFA 13 has been the most successful launch of a sports videogame in history and the biggest videogame launch of 2012 to date. The game sold more than 4.5 million copies in its first week around the world, including more than 1 million copies in the UK alone. Since its launch in late September, it has been the top selling videogame in the UK. Just as important, the game has been universally praised for its quality and innovation, as evidenced by the volume of positive reviews from the leading media and gaming outlets in the UK. For many years, FIFA has been recognised as not only the biggest sports game on the planet, but as the videogame franchise that sets the benchmark for quality, innovation, and connected online services.

The quality of the FIFA game is delivered by one of the most experienced and passionate development teams in the industry. In addition, our game goes through a rigorous, year-long testing process that logs thousands upon thousands of hours of evaluation to ensure a high quality experience at launch and all season long.

Our fans have engaged with FIFA 13 in record numbers. On any given day, more than 1 million online game sessions of FIFA are played by our fans in the UK. But as with any product or online service with such a high level of traffic and popularity, there will be some circumstances where fans experience challenges or issues. And as with any online service, our game is also dependent on many other factors, such as online access and availability at the customer's location, to ensure the best experience.

We are constantly listening to our fans and asking for their feedback to help us identify issues and assist us in prioritising the improvements to our game. We do this via our social media channels like Facebook and Twitter, our FIFA online forums, and our Customer Experience team. We encourage all our fans to follow us on Twitter or Like our Facebook page so that they get the most up-to-date information. We provide transparent and frequent updates to our fans via these channels, such as this item from last week which provides extensive detail about the improvements and fixes we are delivering for FIFA 13:

http://www.ea.com/soccer/news/fifa-13-title-update-01

In summary, we have already delivered improvements to FIFA 13 to address issues in online connectivity, addressed key issues in game modes like Career Mode and FIFA Ultimate Team, and are actively addressing customer issues related to transactions in the game that have not been executed properly, such as missing coins or FIFA Ultimate Team items. Since we released a major update to the game on October 19, we've seen reported game crashes and other issues drop by more than half.

We have received reports from our fans of rare occurrences where the ball in the game does not appear. Our team continues to investigate these rare events and we will communicate directly with our fans once we have more information.

Our commitment is to not only address issues and necessary fixes to improve the FIFA experience as quickly and effectively as possible, but deliver new services and new content all season long. The process of improving the game experience for our fans is a constant one, and our team continues to work on additional improvements that we will implement and communicate in the coming days and weeks ahead. We know that we have significantly improved the FIFA experience for our fans in recent days, and we fully expect that to continue as we develop and implement additional improvements and fixes.

We understand that some fans may wonder why we can't fix all the known issues at once. That's a fair question and the answer isn't quite as simple. We are delivering improvements and fixes in such a way to ensure the millions of people playing FIFA 13 do not experience undue or overly lengthy network/server outages, that title updates and other improvements are done to a high quality, and that we're confident the changes will improve the FIFA 13 experience for everyone.

We look at all enquiries an individual basis and are investigating the two cases you have brought to our attention, and will be in contact with them directly. Once again, thank you for the opportunity to provide this above information, and we welcome Watchdog to come over to the studio in Vancouver to see all the processes and procedures in place to ensure we're delivering the best game possible for consumers. Please do not hesitate to contact us for any clarification."