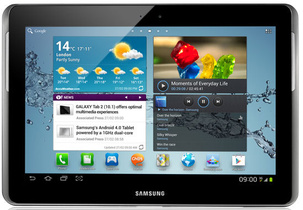 Sprint to offer first 4G LTE tablet on its network.
It has announced that it will offer the Samsung Galaxy Tab 2 10.1 from Sunday, November 11, for $549.99, excluding taxes and any surcharges. It will be available at Sprint stores, at sprint.com or by calling 1-900-SPRINT1.

"Samsung Galaxy Tab 2 10.1 brings Sprint 4G LTE to a new category of device and expands a portfolio already recognized as one of the industry's best," said David Owens, vice president – Product Development, Sprint.

"This new tablet combined with the Sprint 4G LTE network and our aggressively priced tablet rate plan options offer consumers and business users an exciting new way to stay connected and productive with a large workspace in an easily portable device."

Monthly plans start at $14.99 for 300MB of 3G/4G LTE data, $34.99 for 3GB of data, $49.99 for 6GB of data and $79.99 for 12GB of data. Sprint smartphone customers can add Galaxy Tab 2 10.1 to their account with a discounted rate plan that includes 1GB of data for $15 per month, or $10 per month for 100MB of data on the Sprint network.

Samsung's Galaxy Tab 2 10.1 comes with Android 4.0, Ice Cream Sandwich, a 1.5GHz dual-core processor and a beautiful 10.1-inch touchscreen display.