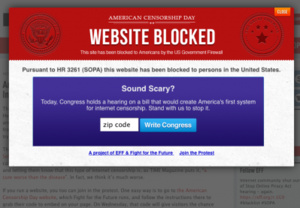 Thanks to Tuesday's elections, Hollywood will have lost six if not more House Representatives that all formerly backed
SOPA
, the controversial and rejected anti-piracy act.
Three co-sponsors of the Act lost their seats while the fourth retired, says
Ars
. The other two had withdrawn their support.
Altogether, there were 31 co-sponsors, with 8 withdrawing their support after the backlash. Three that are to be booted from Congress were all from Southern California districts. In some places, due to a redrawing, some incumbents actually had face each other.
After details of the bills (SOPA and
ACTA
) came to light last year, the Internet was instrumental in their demise. Major tech companies/sites like Google, Facebook, Reddit, Twitter, eBay and Wikipedia all panned the bills and began campaigns to educate their users on the perils of SOPA. Senator Ron Wyden, Democrat of Oregon said lawmakers collected 14 million names from citizens who wanted to protest the vote.