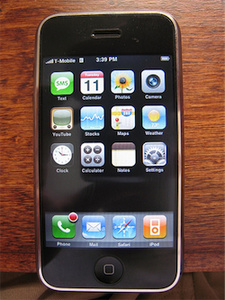 Adding the iPhone to their device portfolio would force the carrier to make major sacrifices, says a T-Mobile executive.
Having the iPhone would likely lead to a decent boost in customers for the struggling carrier, which offers the best prices on monthly plans.
"Make no mistake about it: We would love to carry the iPhone. However, we want the economies to be right for us,"
added Jim Alling, COO of T-Mobile USA (
via FW
).
MetroPCS, the carrier T-Mobile USA is merging with, had similar comments on the smartphone, with COO Tom Keys saying: "
It would be harmful to MetroPCS to have to cut out part of our handset portfolio to accommodate one phone from one provider that the economics could be at risk."
Alling also noted that T-Mobile certainly did not want to make a deal like rival Sprint recently made. The company signed a four-year, $15.5 billion deal last year to sell iPhones. Having that contract has put a massive burden on Sprint, who does not expect to see any profit from the
Apple
device until at least 2015.
The executive does note that not having the iPhone has led to more "churn," and that the new LTE-enabled
iPhone 5
has led to a loss of subscribers, as well. T-Mobile is doing its best to bring over unlocked iPhone users, making HSPA+ (4G-esque speeds) available to them in major cities. Currently, there are 1.5 million unlocked iPhone users on the network, says Alling, although a majority can only access 2G speeds while T-Mobile upgrades their network.