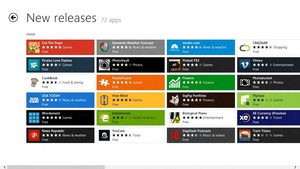 According to
Win App Update
, the Windows 8 Store has reached 20,000 apps, with most being free.
The company says about 18,000 of the apps are free, and also notes that not every country's store will have that number. In fact, the U.S. only has 13,000, Canada has 14,000 and the UK has 11,000 apps available.
Previous reported from earlier this month had the entire Store at 13,000 apps, so it appears growth has been increasing.
If the current rate continues, the store will hit about 35,000 by the end of the year.
Today's totals: 20,610 apps worldwide in the Windows Store (broke 20,000 on Tuesday, I believe). 17,958 of those are free (87%).

-- Win App Update (@WinAppUpdate) November 22, 2012