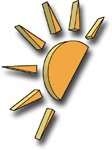 One of AfterDawn's US servers will be relocated tonight at midnight EST. This may cause slower site response times for our US visitors, but things will return back to normal once the server is again back online. For the duration of the relocation all traffic will be handled by our European servers.
The relocation is expected to last 3 hours maximum, but can take until 7:00 AM EST. We will update this news item as things progress.
If you experience problems accessing the site please try and
clear your DNS cache
or just bear with us for a couple of hours. =)
Update 02:15 EST:
The server has been relocated and is again back online and serving requests. Please let us know should you experience problems accessing any of our services.