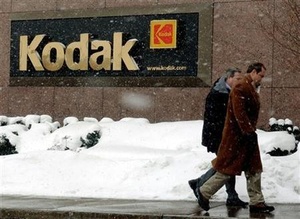 Kodak, the imaging
pioneer
currently in bankruptcy, has sold its digital imaging patent portfolio for $525 million, a move that should help it emerge from bankruptcy in the new year.
The purchasing company is a consortium of 12 led by patent-holding company Intellectual Ventures and thepatent risk advisory firm RPX Corporation.
There are some notable names in the consortium, which are
listed
below:
Apple, Inc.
Research In Motion Limited
Google Inc.
Samsung Electronics Co., Ltd.
Adobe Systems Incorporated
HTC Corporation
Facebook, Inc.
Fujifilm Corporation
Huawei Technologies Co., Ltd.
Amazon Fulfillment Services, Inc.
Shutterfly, Inc.
Microsoft Corporation
Each of the company's will license the patents equally, which should help avoid patent litigation into the future.