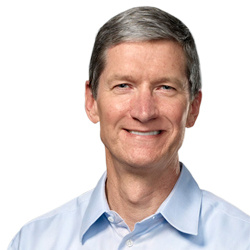 According to
a recent filing
,
Apple
CEO Tim Cook's overall compensation will be $4.17 million this year, down significantly from last year.
Last year, as part of his promotion to CEO (and as a way to retain him), Cook was granted 1 million restricted shares worth about $510 million today.

Those shares will vest completely in 10 years from granting, with half available after five years.

As a base salary, Cook earned $1.4 million this year, up from $900,000 last year but still many times lower than the CEOs of rival companies.

Apple's Compensation Committee said the size of last year's grant was large enough that they did not vote for another this year.

Poor Tim.