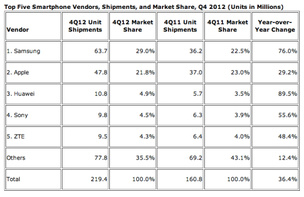 According to IDC's latest figures, Chinese companies have begun to take significant share in the smartphone market.
For the Q4, smartphone shipments were dominated by
Apple
and
Samsung
, as expected, but Huawei and ZTE jumped into the top 5.
Huawei shipped 10.8 million units, good for 4.9 percent share and almost 90 percent growth year-over-year. ZTE shipped 9.5 million units, good for
4.3
percent share with 48.4 percent growth.
Samsung was far and away the leader, at 63.7 million units, good for 29 percent market share. Year-over-year growth was a very solid 76 percent, as well. Apple, which sells its iPhone 4, 4S and 5 devices, shipped 47.8 million units, taking 21.8 percent market share. Growth YoY for Apple was muted, at 29.2 percent and Apple was the only in the top 5 to lose market share.
"The fact that Huawei and ZTE now find themselves among the Top 5 smartphone vendors marks a significant shift for the global market,"
said
IDC research manager Ramon Llamas.
"Both companies have grown volumes by focusing on the mass market, but in recent quarters they have turned their attention toward higher-end devices. In addition, both companies have pushed the envelope in terms of industrial design with larger displays and smaller form factors, as well as innovative applications and experiences."