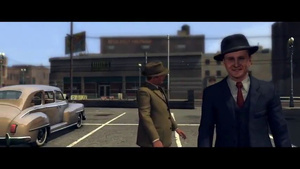 L.A. Noire has its own gag reel.
The
Rockstar
title was released in 2011, depicting 1947 Los Angeles and the fight against crime from the perspective of Police Officer
Cole Phelps
.
It was noted for the quality of facial expressions and body language, due to the use of
Depth Analysis
' MotionScan technology, which uses 32 surrounding cameras to record actors as they portray the characters. It is up to the player to make judgements based on the characters' expressions and movements during interrogation.
But since real actors were used for the game, they are inevitably going to make mistakes. Depth Analysis has compiled such a blooper reel from mistakes made by the actors while being captured by the MotionScan process.
Enjoy!
depthanalysis.com