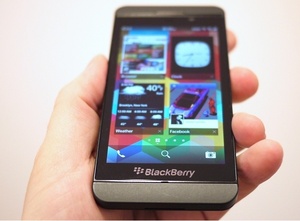 According to
multiple analyst notes
, the new BlackBerry Z10 is off to a hotter start than expected, even moving units faster than the
Nokia Lumia 920
did.
Bernstein analyst Pierre Ferragu says retail checks show enthusiasm for the new phone:
"We have grown more confident in the likely success of the BlackBerry 10 launch, supported by low channel inventories, strong operator support and material pent-up demand. Initial feedback we have received from distributors on the first days of sales is particularly positive."
Barclays' Jeff Kvaal, did retail channel checks in the UK and had a similar outlook,
"Our recent store checks suggest that initial sales of the BlackBerry Z10 are off to a solid, if not healthy start in the U.K. We believe this is a function of strong sell-through versus limited sell-in. We believe BlackBerry's Z10 is off to a better start than the Lumia 920. The solid initial demand is a positive step in our view, despite the number of challenges that remain."
For Blackberry (formerly RIM), this is absolutely good news, assuming that the strong sell-through is based on demand and not just limited supply.
The device will reach the U.S. in March.
(Pic via The Verge)