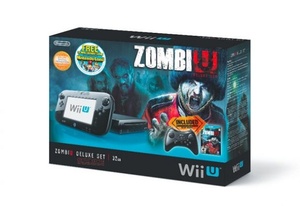 Nintendo
has announced a new Deluxe Wii U bundle for North America.
The bundle will come with a 32GB Deluxe console, ZombiU, a black Pro controller and a download code for Nintendo Land.
Launching February 17th in the U.S.and Canada, the bundle will cost $390.
Furthermore, the bundle
will include
"a ZombiU artwork booklet and "never-before-seen" developer commentary."
If you were to purchase everything separately, the components would cost $450, making the bundle a good deal if you were on the fence with the console and are interested in ZombiU.