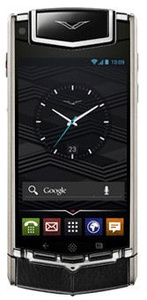 Vertu's latest luxury smartphone comes with a hefty $10,000 price tag, and it doesn't even support 4G networks.
The Android-running
Vertu Ti
starts around US$10,000, but cost double that based on which model you choose, and it doesn't even support 4G networks. For Vertu though, it is not about being at the bleeding edge of technology, it is about craftsmanship and making a device that isn't a disposable product.
The Ti sports a titanium frame and 3.7-inch sapphire screen, and weighs about 180g.
Vertu Ti is powered by Android 4.0, Ice Cream Sandwich operating system, and features a 1.7GHz Qualcomm Snapdragon S4 SoC, 64GB storage. Other features include an 8MP rear camera with auto focus and twin LED flash, a 1.3MP front facing Skype compliant camera and secure near field communication technology.
Until recently, Vertu was owned by Nokia. It targets only the very high end of the market with its products, with approximately 360,000 owners of Vertu devices after ten years in business.
Previous
Next
3 user comments