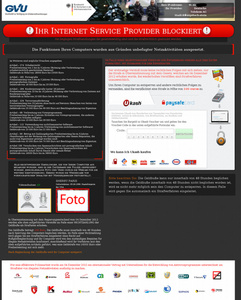 Europol leads charge against cybercriminals who profited from distributing ransomware to victim's computers, forcing them to hand over money.
It worked with Spanish police to dismantle the operation, which affected at least tens of thousands of computer users in Europe.

The ransomware would present itself on screen and attempt to emotionally blackmail, or scare the user into handing over a fee. For example, it would asset that the PC had been used to view images of child sex abuse, and demand that a €100 fine be paid immediately as a settlement.

Even if users were completely sure that their computers were never used for such illicit activity, ransomware can make using a computer incredibly difficult.

Operation Ransom resulted in 11 arrests – the first was a 27-year-old Russian, responsible for the creation, development and international distribution of the various versions of the malware. He was arrested in the United Arab Emirates and is currently awaiting extradition to Spain.

Furthermore, one of the criminal network's largest financial cells in the Costa del Sol was dismantled. Spanish Police also arrested another 10 individuals linked to the financial cell: six Russians, two Ukrainians and two Georgians.

In addition, investigators seized credit cards used to cash out the money that victims paid via Ukash, Paysafecard and MoneyPak vouchers, as well as around 200 credit cards which were used to withdraw €26 000 in cash prior to the arrests.

Since the virus was detected in May 2011, there have been more than 1200 reported cases just in Spain, and the number of victims could be much higher.