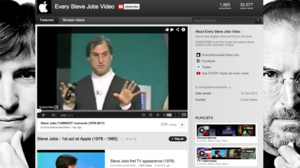 The big time
Apple
fan that started the "Every Apple TV Ad" YouTube channel has expanded, adding a new channel for its late founder Steve Jobs.
Dubbed the "Every Steve Jobs video" channel, there are currently above 150 clips of the Apple founder and CEO.
The site's creator had his reasons for putting the channel this week:
"I'm a long time Apple enthusiast and throughout the years have gathered every single Steve Jobs video I could find ... To commemorate Steve Jobs birthday (Feb. 24th) I decided to put all these videos online and make them easily available for all. I believe it's the most complete archive available."
Clips go as far back as Steve's first TV appearance, with a young nervous Jobs claiming he might throw up.
Check the channel here:
http://www.youtube.com/EverySteveJobsVideo