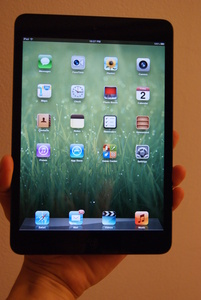 Apple
has been denied in their attempt to trademark the iPad Mini.
The US Patents and Trademarks Office denied the application, claiming that Apple can't trademark "iPad Mini" because the law does not allow them to trademark the word mini, which is simply a description of something in miniature form.
Reads
the letter:
"The term "MINI" in the applied for mark is also descriptive of a feature of applicant's product. Specifically, the attached evidence shows this wording means "something that is distinctively smaller than other members of its type or class". See attached definition. The word "mini" has been held merely descriptive of goods that are produced and sold in miniature form. The examining attorney has also attached evidence from an internet search showing third party descriptive use of the term "mini" to describe the small size of various handheld digital devices. See attached evidence. Therefore, the wording merely describes a feature of applicant's goods, namely, a small sized handheld tablet computer."
The full rejection letter here: