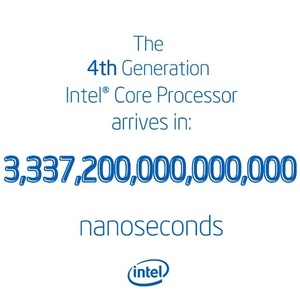 Intel
has finally confirmed the launch date for its fourth-generation Haswell chips.
The chips will launch on June 3rd, or as the company says, "in approximately 3,337,200,000,000,000 nanoseconds, Intel will reveal all there is to know about the highly anticipated 4th generation Intel Core processor family."
Desktops
, laptops and more importantly convertibles and ultrabooks, are all expected to see boosts thanks to the benefits of the chips. Haswell processors are more battert efficient and have improved built-in graphics performance.
The first Haswell chips are all expected to be quad-core, aimed at high-end notebooks. Intel has created its standard Haswell processors and also ultra-efficient models aimed at convertibles and ultras.
Haswell chart via
Cnet
: