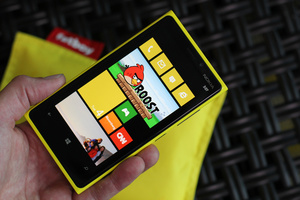 Nokia chief executive Stephen Elop has said that the Finnish mobile giant remains dedicated to the Windows Phone platforms for its smartphone devices.
Figures released for Nokia's first quarter showed incremental gains in its smartphone business, which offers Lumia-branded devices running Microsoft's Windows Phone mobile operating systems.
While the figures did show a slight uptick for its smartphone business, concerns were raised about a plunge in sales of Nokia's cheaper feature phones - largely aimed at customers in emerging markets - which have been a traditional strong point of Nokia's strategy.
"We make adjustments as we go. But it's very clear to us that in today's war of ecosystems, we've made a very clear decisions to focus on Windows Phone with our Lumia product line. And it is with that that we will compete with competitors like Samsung and Android,"
Elop said, according to the
Reuters
news agency.
Some analysts had speculated that the drop in basic phone sales might require Nokia to make a radical change in strategy, such as dropping Microsoft's mobile operating system in favor of Android.