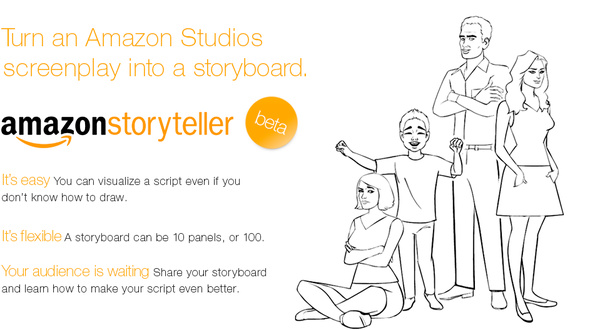 Amazon has announced the launch of its free online took dubbed "Storyteller," which automatically converts scripts into "dynamic and professional storyboards."
The software is currently in beta, but will automatically identify scenes, locations, characters and more from any script that you have uploaded to Amazon Studios. Afterwards,
"it 'casts' these objects from a library of assets that includes 'thousands' of characters, props and backgrounds."
If you believe the automatic conversion does not do justice to the ideas/concepts you have in your mind, Amazon allows you to upload your own images and change positions, facial expressions and more of the characters. You can also add captions for additional dialogue or explanatory actions.
After you are done editing, the storyboard can be published to Amazon Studios, where peers can leave feedback.
"We've found that many writers want to see their story up on its feet in visual form but find it harder than it should be to create a storyboard,"
said
Roy Price, Director of Amazon Studios.
"Storyteller provides a digital backlot, acting troupe, prop department and assistant editor – everything you need to bring your story to life. We want to see great stories turned into movies and television shows and we'll continue to develop new features and tools."
Check it out here:
StoryTeller