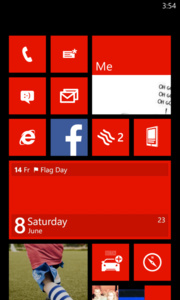 Microsoft's upcoming update to their Windows Phone mobile operating system, codenamed Blue, has been outed in some very early screenshots.
The OS will soon include a notification center, an updated calendar interface, and better sorting abilities for apps and lists.
Screenshots came via a strange source, a Reddit user who purchased a
Lumia 920
on eBay. The phone had some sort of internal build, identified as 12084.WPMAIN(wpbldlab).20130509-1407. The name shows a date of May 9th, 2013, so the build is not too old.
Multitasking improvements are in the build, as well, including the ability to close multiple apps in the multitasking view.
Microsoft
also has test applications that start with a lower case "z", such as zBattinfo.
The Verge
says it has been able to confirm that the screenshots are legit.
Some of the pics here: