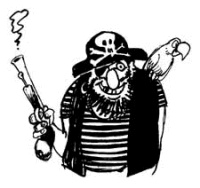 A judge in the United States has sent a Chinese national to prison for operating a huge software piracy operation.
Xiang Li
was arrested in the US Pacific territory of Saipan in June, 2011, and pleaded guilty to accusations he had sold over $100 million worth of pirated software through his website.
Li would get the pirated software from Internet forums, then list it on a website posing as a software dealer. The software included popular names from Microsoft, Oracle, SAP and Rockwell Automation. Li sold the pirated software for far lower prices than retail, some for $20 and some for $1,200.
The actual value of some of the software items reached $1 million.
In total, Li had
more than 2,000 dodgy copies
of software for sale.
This marks the first time that a Chinese national has been prosecuted in the United States for crimes related to copyright infringement.