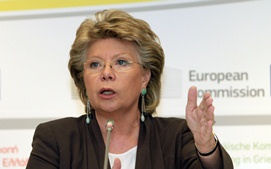 The European Commission is seeking answers from U.S. attorney general Eric Holder on NSA data requests.
Commission Vice President,
Viviane Reding
, wrote to Holder expressing concerns that American spying practices could have
"adverse consequences for the fundamental rights of EU citizens."
In the letter, Reding highlighted
seven areas of concern for the European Commission
...
Are they only aimed at gathering the data of US citizens and residents, or are they also - or even primarily - targeting non-US nationals, including EU citizens?
Is the data collection limited to specific and individual cases and, if so, what criteria is applied?
How regularly is the data of individuals collected or processed in bulk?
What is the scope of Prism and other such programmes? Is it limited to national security and foreign intelligence, and if so how are such terms defined?
How might companies in the US and EU challenge the efforts to access and analyse the data?
What ways might EU citizens find out if they have been affected? How is this different to the situation for US citizens and residents?
How might EU citizens and companies challenge any effort to access and process their personal data? How does this compare to the rights offered to US citizens and residents?
Reding expects that she will get the answers she seeks on Friday, when she will meet with Holder at the EU-U.S. Ministerial meeting in Dublin, Ireland.
"The respect for fundamental rights and the rule of law are the foundations of the EU-US relationship. This common understanding has been, and must remain, the basis of cooperation between us in the area of Justice. Trust that the rule of law will be respected is also essential to the stability and growth of the digital economy, including transatlantic business. This is of paramount importance for individuals and companies alike,"
Reding is quoted as saying.