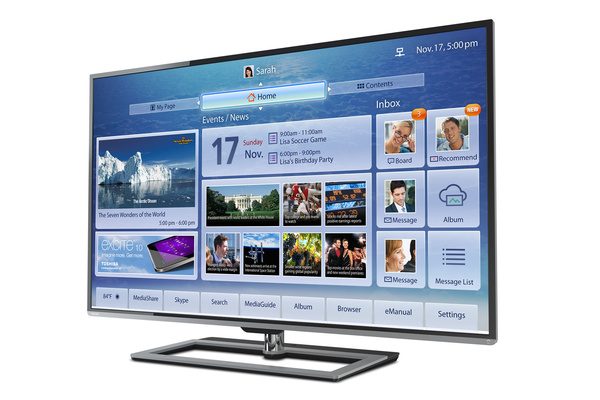 Toshiba has announced a new series of 4K Ultra HD TVs, available in 58-, 65- and 84-inch models.
With 4K TVs, a sobering price tag is to be expected in these early days. The 58-inch model has an MSRP of $4,999, which bumps to $6,999 for 65-inch and $16,999 for 84-inch. Sobering indeed.

The L9300U Series are powered by Toshiba's proprietary CEVO 4K Quad+Dual Core Processor, to deliver the highest quality 4K image processing, including Resolution Restoration to restore clean near 4K image quality from less than 4K content.

"While the content creators work to create more 4K content and figure out how to distribute it, consumers can still enjoy the clearer, more natural and lifelike images on a 4K Ultra HD TV," said Scott Ramirez, vice president of product marketing and development, Visual Products, Toshiba America Information Systems, Digital Products Division.

"This year, consumers can enjoy Blu-ray Discs with near 4K resolution thanks to powerful upscaling technology; however when choosing a brand, they should choose one that has high-quality processing and proven engineering skill to optimize the 4K experience right, like Toshiba."



The L9300U Series touts CLearScan 240Hz refresh rate technology, Toshiba's CQ engine to refine the image quality (Edge Enhancer, Dynamic Gamma, Color Master and Expert Mode Calibration Capability, and new UltraClear Dynamic Noise Reduction) and Color and Depth Adaptive Resolution+, to "help create images with enhanced image resolution, lifelike color saturation and incredible picture depth."



Advanced Cloud TV functionality provides a Family Calendar, Personal Messaging, Photo Album, Streaming News, MediaShare (DLNA), MediaGuide and Built-In Wi-Fi, Miracast and WiDi.

The models will be shipped in the U.S. from August 2013.