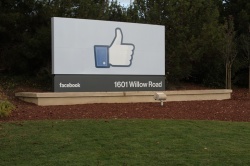 A U.S. District Judge is to scrutinize a proposed settlement from Facebook resulting from a lawsuit over its advertising practices.
U.S. District Judge
Richard Seeborg
in San Francisco gave preliminary approval to a proposed $20 million settlement from Facebook to settle a case brought against it over its
"Sponsored Stories"
program. However, on Friday, plaintiffs told the judge that Facebook's settlement did not do enough to keep content created by minors out of the hands of advertisers.
Facebook
said it would pay $20 million to settle the proposed class action
, to compensate class members and said it would also make changes to its policies to give users more control over how their content is shared. Plaintiffs lawyers estimated changes as worth up to $145 million, a figure which Seeborg found to be highly speculative.
Children's Advocacy Institute attorney Robert Fellmeth told the Judge on Friday that minors' content should not be shared with advertisers. Seebord though, reminded him that his role is only to determine whether Facebook's settlement offer is fair.
"My function here is not to craft the perfect policy for minors,"
Seeborg said.
The judge must give the settlement case final approval, or refuse to do so which would force Facebook to step it up.