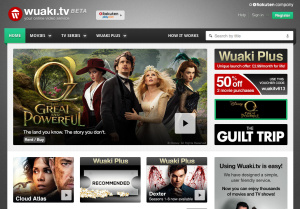 Rakuten, the quiet e-commerce giant behind brands like Buy.com and Kobo, has launched an official beta of its Wuaki video
streaming
sevice in the UK.
The company purchased Wuaki in 2012 from its Spanish owners. The site expects to roll out the service across Europe over the course of the next two years.

"The UK is the first stop in Wuaki.tv´s European expansion beyond the company's home market in Spain. Wuaki.tv has a long term aim of becoming a leader in the European VOD space, and is planning to complete launches in the main European countries, in addition to the UK and Spain, within the next 18-24 months,"
Wuaki's CEO Jacinto Roca
noted
. "
A detailed plan will be confirmed in the next few months, following the UK launch and initial feedback and results in that market."
In the UK, the service will launch with "thousands of hours" of content, including TV and movies from Warner Bros., Disney,
Sony
Pictures, 20th Century Fox and the BBC.
Subscriptions cost £2.99 ($4.50) per month, and there are also newer offerings via a la carte purchases.
Wuaki, which had 600,000 users in Spain, will be available to UK PC and Mac users with "support for games consoles, smart TVs and tablets to follow over the summer."